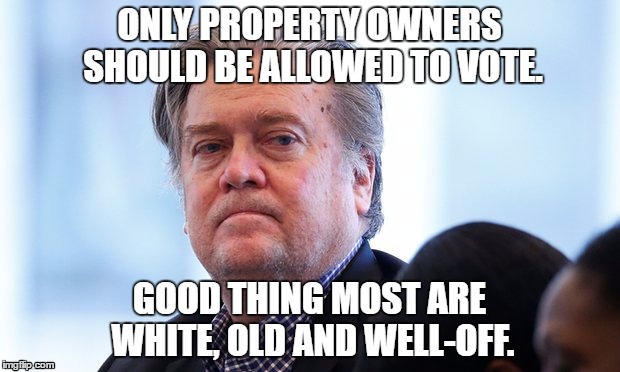 It's been a living hell the past four weeks. On November 8, voters picked Donald J. Trump as the next president, and he's already embroiled in the beginnings of a half-dozen scandals. For me, the most egregious is his ignorance of the Constitution, particularly the First Amendment. Of all his staff picks, the most odious is Stephen Bannon, former executive editor of Breitbart News.
Corporate America is taking notice of Bannon and his background. This week, breakfast cereal maker Kellogg pulled its ads from the reactionary website, saying the site's inflammatory approach to news is not "aligned with our values as a company." Yes, it may be unbelievable, but some corporations have a conscience. Other brands that have ditched Breitbart include Allstate, Nest, and EarthLink.
Though everyone who knows Bannon even slightly says he's not a racist, anti-Semite, or kitten-hater, he oversaw the growth of Breitbart News from a nothing to a leading hyper-conservative voice that reaches 19.2 million visitors a month. He blessed its take-no-prisoners approach before leaving in August, but there's worry that three weeks after his appointment as Trump's chief adviser and strategist, he may be legitimizing racism, misogyny, and religious intolerance. After all, he did it at Breitbart News. Might he do it in the White House?
Bannon may not be racist, but he's a bully [Tweet this!]
Big news outlets have now published detailed backgrounders on Bannon, and he comes across as a bully, but not a racist, at least in the KKK sense of outspoken disrespect for minorities. Racism, however, is far more nuanced than using the "n" word when referring to African-Americans, for example. According to the New York Times, he "occasionally" suggested to a friend that only property owners should be allowed to vote. If it ever came to pass, millions of poor people, including blacks, would be disenfranchised. When challenged on this point, he reportedly said, "Maybe that's not such a bad thing."
The one word applied to Bannon by most of his friends, relatives, and acquaintances is "opportunist," because of his pursuit of business opportunities. His rise at Breitbart was supposedly because of its profit potential, as well as its conservative politics. The Oxford Dictionary defines an opportunist as "a person who takes advantage of opportunities as and when they arise, regardless of planning or principle." A more precise word for Bannon might be "carpetbagger," because he only joined the Trump campaign in August, after seeing how the candidate's statements matched his extremist nationalist views. With his White House appointment, he becomes Trump's muse.
Millions of Americans want Bannon stopped, including 15,000 lawyers who have signed an online letter decrying Bannon and asking Trump to rescind his hiring. "Through Breitbart, Mr. Bannon has intentionally legitimized racism, anti-Semitism, and other hate-based ideologies," the letter says. "Such bigotry runs counter to the values enshrined in the Constitution we promised to defend."
Up to now, Trump has shown no interest in firing or sidelining Bannon. You can judge another by his friends, and now we know how Trump really thinks, because of the people he gathers round him.
How are you opposing racism and misogyny in the incoming Trump Administration?